THE INVENTION
Imagine a long-term solution for bunker maintenance that involves building a bunker perimeter structure from synthetic turf. Without natural turf decay, the PermaEdge System withstands natural forces and maintains structural intergity for decades. A solution that involves a traditional aesthetic while incorporating modern materials and technologies. What if you could do this in an affordable way with a nod to sustainability?

The PermaEdge Bunker System gives golf course professionals the ability to address maintenance and renovation objectives by putting their capital improvement plan to work over a significantly longer life. This patented solution has been proven on nearly 250 golf courses, in 26 countries since introduced while delivering a great aesthetic and low maintenance.
Why PermaEdge Bunker System?
---
Demands on the golf course maintenance budget increases pressure to do more with less. And when considering renovations, extending the life-cycle of these capital improvements is a significant objective.

Professionals have been addressing these concerns over the years. With great success, for example, bunker liners have controlled washouts and eliminated sand contamination, cutting labor costs to repair. Based on design styles, bunker edges and perimeters could still pose challenges. No matter the design or style, bunker structures can get damaged by trimming, mowing, weather, decomposition, or by equipment entering or exiting a bunker.

It is also about aesthetics. Nothing is more noticeable than bunkers in poor condition. With the primary focus typically on greens, tees, and fairways, bunkers too often get neglected or simply addressed for the short run.

The Origins

To reduce maintenance pressures, bunkers frequently get rebuilt into lesser states of their grander origins. They often take on more ordinary or utilitarian shapes. In some cases, bunkers get grassed in all or part. But for many, these new designs don't suit the course, especially on more historic locations.

A goal was set to find a way of building 'beautiful' bunkers in a more maintainable manner. The seeds of an idea were born and subsequently brought to life by a partnership based in Wales, UK. A wide range of different materials and methods were reviewed and considerable testing and analysis was performed, with a conclusion that used synthetic turf would be the best choice.

The next step was to set-up a test bed, using different turf, in different dimensions, with different materials and methods. A multi-year process resulted in the final solution that we implement in today's market / now called the PermaEdge Bunker System.

How Does It Work?
---
The PermaEdge Bunker System is not just about used synthetic turf. As a patented system, each component relies on every other for success.

The solution involves sourcing, converting and preparing the used turf to a defined specification. It is also about site preparation, understanding a series of key principles to layout and design the construction processes.

PermaEdge also involves defined assembly materials and techniques which will insure the system as a whole works over the long-haul. In short, PermaEdge stabilizes bunker structures with materials that will not deteriorate, will stand up to man's interactions, and will not erode with inclement weather.

Most importantly, PermaEdge is adaptable to many different bunker styles. It gives designers a new tool in their creative toolbox.
The Invention Explained
The PermaEdge Bunker system is protected under license by various IP rights, including a number of granted patents and registered designs. These patents provide exclusive rights over the appearance and concept of building golf course bunkers having artificial grass turf layered in a staggered arrangement to form the slope of a bunker wall.

The construction of Gravity retaining structures, Cantilever Retaining Structures with structural backfill is protected under these granted patents - US Design Patent # 29/408,155. Following examination by the USPTO, the above US Design Patent Application was accepted and a Notice of Grant was issued in May 2013. The PermaEdge Bunker System is offered to the marketplace through an exclusive agreement with Rhydian Lewis, co-inventor of the invention and co-owner of the US design patent(s).

This patented method delivers exceptional aesthetics, durability, and quality for the US market. IVI-GOLF's 20+ year background with bunker products Sandtrapper and Flexxcap allow PermaEdge to become an natural extension of our Bunker Management product line.

The PermaEdge Bunker System encompases many professionals across a wide range of disciplines. Over the past several years "The Invention" continually exceeds customer expectations in beauty, realism, and long-term performance.
SOME OF THE THINGS WE HAVE DONE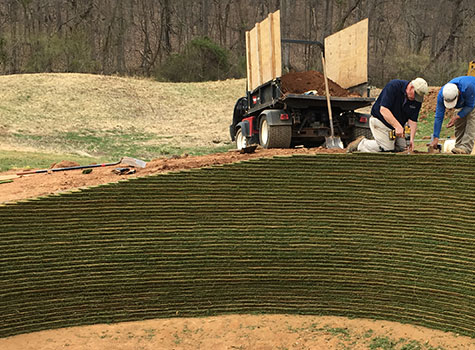 Raspberry Falls GC
A fantastic course located in Leesburg, VA is currently setting up for a course-wide bunker re-work. After installing several evaluation bunkers two years ago, the decision was made to improve the remaining bunkers with the PermaEdge Bunker System.
project recap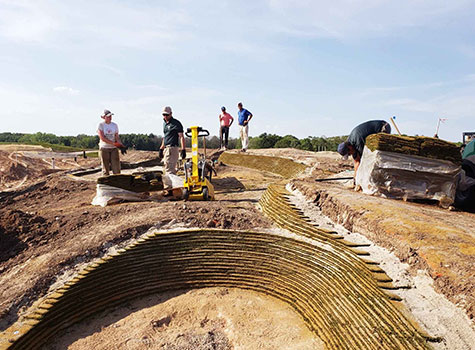 The Baths at Blackwolf Run
Plans for a June 2021 opening, it's a new short game practice area in Kohler, WI - part of the Destination Kohler group. It's a 27 acre Par 3 course and 2 acre putting course designed by Chris Lutzke, 30-year veteran of golf course design and Pete Dye protégé.
project recap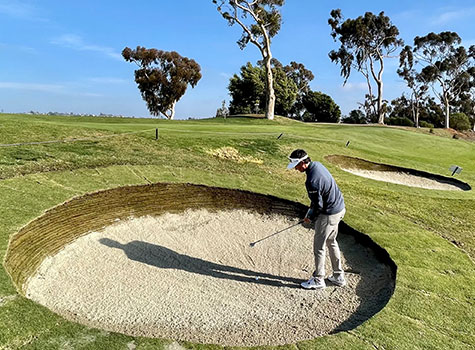 Goat Hill Park
A vintage executive course located in Oceanside, CA is undergoing continual improvement, including PermaEdge bunkers. Operated by John Ashworth of LinkSoul fame, Goat Hill is an incredible little place with a great vibe and a great future with cool bunkers.
project recap